All About TEXAS Cooling and Heating
Providing TEXAS customers with reliable and affordable Air Conditioning and Heating system service
We are your Local, Honest, and Dependable Service Company!
A/C Repair

A/C Maintenance

A/C Sales & Installation

Solar A/C

Mini-Split Systems(ductless)

Furnace Repair

Furnace Maintenance

Furnace Sales & Installation

Package Systems

Heat Pumps

Geothermal

Air Handlers

Indoor Air Quality (IAQ) Products

Surge Protection
Serving Leander, Cedar Park, Round Rock, Austin, & the Surrounding Areas
Here in Central TEXAS our air conditioning system is an essential appliance to help keep us comfortable. With the fast pace of modern life, it is easy to overlook the importance of maintaining your air conditioning system until there is a problem. But don't allow a small problem to persist, because it can quickly develop into an expensive service call.
Having an experienced repair technician diagnose your air conditioning system means you can have any problem addressed by a trained and knowledgeable professional.  Developing a relationship with a reputable HVAC company is very important.  When you trust our team at All About TEXAS Cooling and Heating for service, you are receiving help from factory-trained technicians and a Factory Authorized Dealer.  You deserve a trained technician with years of experience to help quickly and effectively diagnose the situation, don't be short-changed by so many HVAC companies that will send out inexperienced, recent graduates to "learn" on your equipment.
Keeping your home comfortable doesn't have to be stressful. We're available 24/7 to handle any emergency A/C or heating service, so you wont have to wait long before our experts arrive for a repair.
We have the best technicians, equipment, products and services, and we offer a 100% Satisfaction Guarantee on all of our work. So call and schedule an appointment with one of our experts, or submit your request online today!

Ductless cooling and heating technology offers a welcome alternative to the traditional systems we all grew up with. Because it focuses on individual rooms and living spaces rather than your entire home, it's more energy-efficient, more flexible, and easier to install - as proven by decades of successful use in Europe, Asia, and across the globe. It is not surprising that ductless is the fastest growing segment of the American air conditioning and heating market.
10 Reasons to do business with All About TEXAS Cooling and Heating
1) PRECISION TUNE-UP MAINTENANCE AGREEMENT SPECIAL!!! - Receive 2 visits(A/C AND heating system) for the absolute best tune-up in the industry at only $219!!! $80 off the regular price!!! Also entitles you to up to a 15% discount on recommended repairs and upgrades.
2) Diagnostic/Trip fee/Service call fee waived with repair!!!
3) Over 32 years experience in the industry - From heat pumps to ductless split systems(mini-split) to natural and propane gas furnaces and electric furnaces to zoning systems and 2 stage and fully modulating inverter technology air conditioning systems, All About TEXAS is your HVAC specialist!
4) TEXAS values; honesty, integrity, faith, family and freedom are at the top of the list.
5) Respect for your time and schedule. We make every attempt at meeting the appointment we have set for you because we know how valuable your time is!
6) Unrivaled customer service. We go above and beyond on every call to "WOW" our cutomers! Our goal is not a one time fix to a problem, but developing a lifelong relationship with our customers!
7) Respect for your home. Shoe covers, dropcloths, and thoroughly cleaning the work area is another way we build value into every call!
8) Locally owned and operated. We have no "corporate mentalities" here, we leave that to the "big box" companies.
9) The best equipment, technical expertise, indoor air quality products, parts and accessories...that's the All About TEXAS way!!!
10) The best financing in the industry! We realize, not everyone has the means to afford a replacement HVAC system right out of their pocket. That's why we have obtained financing options for customers to make affordable payments on their investment that fit their budget. From low monthly payment options to zero interest.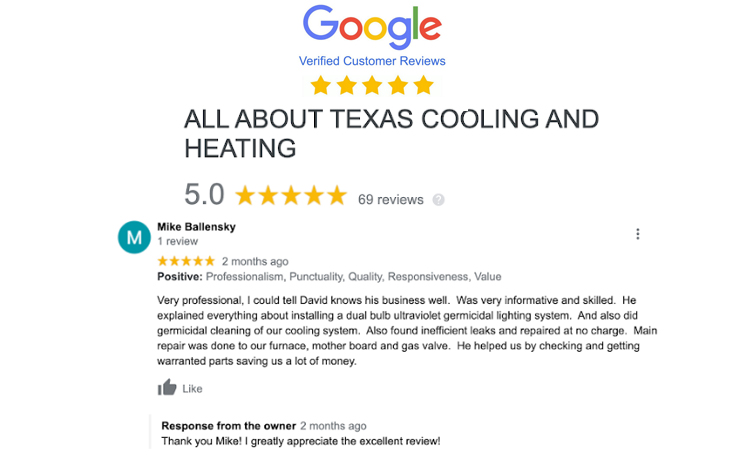 Ready to find out more? Get started today!
HVAC License TACLA# 96955E